If you are looking for experiences / adventures during your vacation, the Ore Mountains is the right place.
Hiking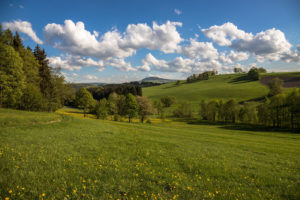 Explore one of the most beautiful hiking regions in Germany!
During extended hikes, body and soul find relaxation. Either through idyllic forests, where every clearing dipped in sunlight becomes the perfect opportunity to take a picture. Or across lush meadows, you can take a short rest on a bench to listen to the birds.
At the same time, every climb is rewarded with a wonderful panoramic view of the low mountain range of the Ore Mountains. Behind every bend there are contemporary witnesses to the cultural history of the Ore Mountains.
Biking
Whether on a mountain bike, touring bike or e-bike. Whether demanding over the mountains or along the river valleys, there is a lot to discover in the heart of the Ore Mountains and the right bike paths.
Climbing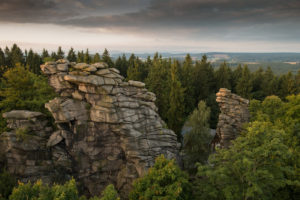 The rock formation of the Greifensteine ​​becomes the highest elevation of the Ehrenfriedersdorfer Freiwald (732 m).
The rocks are made of granite, which is particularly strong but also smooth due to the high quartz content.
Attractive and varied climbing tours are waiting for you and the surveys of the Greifensteine :
Kreuzfelsen (23 m)
Gamsfelsen (25 m)
Seekofel (18 m)
Kleiner Brocken (17 m)
Stülpnerwand (18 m)
Turnerfelsen (18 m)
Please note the climbing rules and above all the general ban on magnesia.
Other worthwhile climbing areas are the Katzenstein area, near Pockau, and the Auersberg area, in the valley of the Upper Zwickauer Mulde, near Eibenstock and in the Steinbach valley near Johanngeorgenstadt.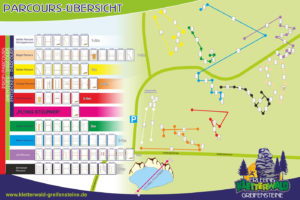 A great variant for the whole family is the adventure climbing forest on the Greifensteinen.
At a height of up to 13 meters, between the high spruces of the Greifenstein Forest, everyone who enjoys climbing or simply wants to try something different can conquer the large selection of climbing elements in the adventure climbing forest for themselves. Whether big or small, young or old, beginners or advanced and even people with disabilities the Greifensteine ​​adventure climbing forest offers the right course.
Link to the adventure climbing forest on the Greifensteine
Cross-country skiing